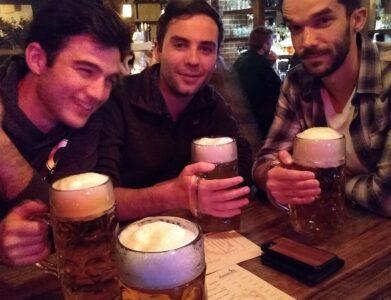 Dr. Benjamin Boyle
B.A.,

Whitman College, 2015
Ph.D.,

Colorado State University, 2021

Ben grew up in Seattle, Washington. He attended Whitman College in Walla Walla, WA where he received his B.A. in Chemistry in 2015. While in undergrad, Ben worked at Seattle Genetics in the Antibody Purification/Conjugation and Process Chemistry groups and after graduating he worked in Process Chemistry group as a research associate. After one year, he joined the McNally group at Colorado State University in 2016 developing reactions via phosphorus ligand-coupling and phosphonium-pyridinium bis-cations. Deciding to give the east coast a try, Ben joined the MacMillan lab as a postdoc in August 2021. Outside of lab, he enjoys watching basketball, listening to music, and quoting the Lord of the Rings.
Fun Facts
Despite being a Seattle Sonics fan as a kid, Ben's favorite (active) NBA team are the Oklahoma City Thunder.
Ben has never skied/snowboarded before even though he spent five years in Colorado.
When he started at Whitman College, Ben was set on majoring in Philosophy/History, but changed his tune after taking organic chemistry.