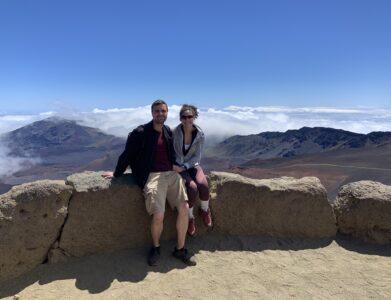 Dr. Brandon Bloomer
B.Sc.,

Temple University, 2017
Ph.D.,

UC Berkeley, 2023

Brandon grew up in Levittown (AKA L-town), Pennsylvania and earned his BS in Chemistry from Temple University in Philly, where he fell in love with organic chemistry. At Temple, he studied [4+4] photocycloadditions in the Sieburth lab and then reductive elimination from high-valent nickel in the Wengryniuk lab. Fascinated by transitional metal catalysts and biocatalysts alike, Brandon pursued a PhD under the guidance of John Hartwig at UC Berkeley, where he engineered E. coli to utilize iridium porphyrins in biosynthesis and studied the mechanisms of reactions catalyzed by iridium-containing cytochromes. Sick of the plethora of beautiful hiking locations in the Bay Area, Brandon drove home to enthusiastically join the MacMillan lab and only got one speeding ticket along the way. Now he is studying mechanisms of disease in human cells with the group's microenvironment mapping platform.
Fun Facts
Outside of lab, Brandon enjoys weightlifting, playing guitar and singing (poorly), playing online multiplayer video games (very poorly), watching anime/reading manga, and occasionally engaging in random art projects.
Brandon's comfort with a given environment can be strongly correlated with his propensity to speak in random accents and make impressions of fictional characters.
Brandon's current top three favorite songs in no order are: Preciosa by Marc Antony, Like a Star by Corinne Bailey Rae, and You Never Know by Immortal Technique.
Brandon has a few variants of synesthesia, but the caveat is he also has misophonia.