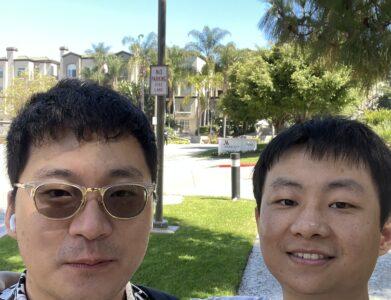 Dr. Jiaxin (Jay) Xie
B. Sc.,

Peking University, 2015
Ph. D.,

University of Chicago, 2022

Jiaxin was born and raised in central Hunan Province of China. He received his B.Sc. in Chemistry from Peking University, where he studied the total synthesis of complex terpenoid natural products in the lab of Profs. Zhen Yang and Jia-Hua Chen. Excited by the rich chemistry of natural product synthesis, he pursued his graduate studies under the direction of Prof. Guangbin Dong at the University of Chicago, where he completed his first total synthesis of Phainanoid A, an immunosuppressive triterpenoid natural product. Deciding to switch fields, he joined the MacMillan group in August 2022 as a postdoc to develop synthetic methods using photoredox catalysis. Outside of the lab, he enjoys classical music, hiking and watching movies.
Fun Facts
Like most people from Hunan, Jiaxin enjoys spicy food. But having lived outside of Hunan for 11 years, he can no longer take the crazily spicy food his mother cooks.
Jiaxin loves violin concertos, but he refused learning to play the violin as a kid. Even now he doesn't know how to play an instrument at all.
Jiaxin enjoys watching the same movie multiple times. For instance, he has watched The Shawshank Redemption more than 30 times and Interstellar more than 20 times.